Featured Success Stories
Steven & Irene
"Thank you AfroIntroductions!"
Dear AfroIntroductions,
We are more than delighted to send our gratitude to the whole team of AfroIntroductions for making our dreams come true. Through your site, we were able to contact each other and before long Steve came to Kenya where we saw each other and the rest was history because it was like we had known each other for ages. After that first visit, Kenya became like his second home because he visited another six times as we made plans to tie the knot and live together. As we speak, we are happily married and living in the UK with our two lovely children.
We would to tell everyone that this site is real and for sure you can meet the love of your life, but we just urge you to be honest in your profile and follow your dreams, as honesty goes a long, long way. Thanks a lot AfroIntroductions, we will always credit you for our meeting and love.
Irene and Steve.
Pam & Jens
"Thank you AfroIntroductions!"
My fiance, Jens and I just wanted to say a BIG thankyou to you all. We met here on the AfroIntroductions website and after I received his message on the 24th April 2011, I replied and there was back and forth correspondence between us. Within just days of communicating, we both knew we were meant for each other. He declard his love for me on the 27th April 2011 and on the 3rd May 2011, he proposed and I said Yes. Everything came too quick but you see, we needed no time to realize we are soulmates. We are planning our wedding and I couldn't be more grateful. Thank you AfroIntroductions!! Thank you!
Pam
Gino
"Success with the AfroIntroductions site."
Make a choice for a dating site is not easy. But now I can say I have make a good choise. It is all a long time that I like to meet an African lady. By wisch to meet one and to meet the real woman, that is a big diffirence. I am happy that I can say, I have met her. Or better, we are happy we have met each other. Our first contacts or very nice and it give us all possibilities to go into sometihing nice, a new start in life. We find in each other the things we like........ I can say, she is realy ok for me, a woman that I like to spend my life with, I have the love for her and I am sure it will become more and more. We both have that feelings. Success with the AfroIntroductions site.
Nancy
"I will always be greatfull to Afrointroduction for making it possible for me and my loving Husband to meet"
I will always be greatfull to Afrointroduction for making it possible for me and my loving Husband to meet. After only 6 months chatting and we met after one month, he gave me engament ring. Then after three months he came back to bring the other Ring.It was the best wedding I wil never forget. Thankyou Afrointroduction
Mikead
"Danke AfroIntroductions!"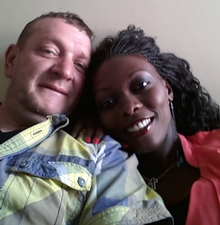 Das ist die Frau meines Lebens. Wir haben uns hier kennen gelernt und über Monate miteinander gechatet, da ich erst sehr spät Urlaub hatte. Natürlich bin ich dann zu ihr geflogen. Das hat sofort gefunkt. Das war der schönste Urlaub meines Lebens. Nun planen wir unsere Hochzeit. Ich bin so glücklich.
Cupid Media, the Cupid Media Logo and AfroIntroductions are registered trademarks of Ecom Holdings Pty Ltd and used with permission by Cupid Media Pty Ltd.