Muutama Onnellinen Tarina
Rob
"Thank you AfroIntroductions!"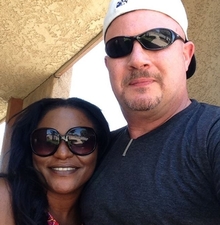 I sent Bea an email telling her I liked her profile and to please check out mine. If she was interested then I would enjoy getting to know her. To my surprise she responded after a few days. We emailed back and forth. Then we did Skype and FaceTime. We discovered we had a lot in common. I went to California to visit Bea. It was a magical week. We will soon be married. Thank you Afrointroductions for helping make this miracle happen. To all of you out there looking for love, we wish you luck! We know you will find that special someone out there!
Beatrice and Robert
Fikirte & Todd
"Thank you AfroIntroductions!"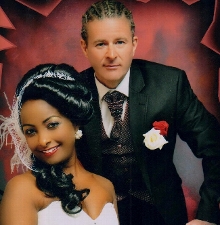 My name is Fikirte and i have logged to your web site two years ago looking for love and luckily I started chatting with this very kind gentleman we talk for many hours our the site and also on Skype daily for over 2 or 3 hours. He is from Australia and His name is Todd.We got married on January 26th 2013.We are so greatful for what you did to us and we both want to thank you so much for making our dreams come true.We are now more than inlove and people get amazed how we communicate.We hope this photos will explain all. Thank you very much once again.
Pascal & Olga
"Thank you AfroIntroductions!"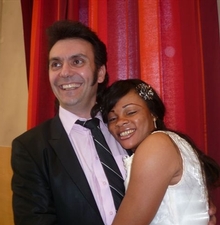 Parfois, il faut savoir faire des kilomètres pour trouver sa moitié. Nous l'avons fait !!! Nous nous sommes mariés en été 2010. Nous avons su être patients grâce à notre amour. Aujourd'hui ma femme est en France et nous vivons un vrai bonheur. Merci à Dieu et à AfroIntroductions.
Steve & Grâce
"Merci AfroIntroductions!"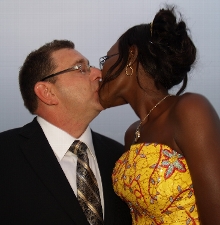 Bonjour On remercie beaucoup le site AfroIntroduction car grâce a vous j ai rencontré ma femme,ont s'est marié au Bénin et c est le bonheur parfait elle et moi vous remercions du fond du coeur. Aux autres membres célibataires, ne désesperez point l'amour existe encore il faut y croire! Bisous a tous et toutes
Jérôme & Diana
"Merci AfroIntroductions!"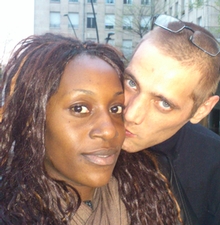 je suis tres heureux aujourdhui,et je dis merci a AfroIntroductions!!!! ,je souhaites aux autres membres de trouver le bonheur comme moi. Bonne chances bisouxxxxxx
Cupid Media, Cupid Media -logo ja AfroIntroductions ovat Ecom Holdings Pty Ltd:n rekisteröityjä tavaramerkkejä ja niitä käytetään Cupid Media Pty Ltd:n luvalla.