Succes verhalen
Ann & Mike
"Thank you AfroIntroductions"
Me and Mike met here and started chatting online. After a long time talking and calling each other we realized that we were meant to be together. He came to Kenya from Spain we met, and that was my most happiest day of my life. We didn't know that love can come my way like that. We got married and we both came back to Spain to live. We have settled and we still have much love for each other. And we are very happy.
Thank you AfroIntroductions for making us both happy.
We are so greatful
Corey & Bancy
"We would like to thank AfroIntroductions"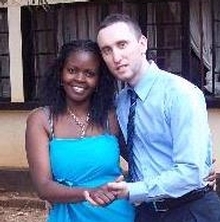 We would like to thank AfroIntroductions for making our dreams come true. In early 2009 I met a lovely Kenyan lady on your site. From our initial contact on AfroIntroductions we started communicating via email and phone. We communicated this way for over 6 months where a close bond was formed between us. In September 2009 I traveled to Kenya from Australia where we both realized we wanted to spend the rest of our lives together. So on the 24th of September 2009 Corey and Bancy became man and wife. So Thank you AfroIntroductions for making all this possible.
Natalie & Rich
"Life began the day I responded to his interest on AfroIntroductions!!"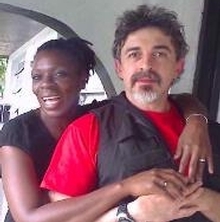 I would recommend this web site to everyone looking for love. I met Rich in February 2006 after a year on the website. I knew he was different and we hit it off immediately. After hundreds of dollars in phone calls, we met in person a year later. That was a magical day !! Rich is now in the middle of relocating to the Bahamas, where we plan to be married. Life began the day I responded to his interest on AfroIntroductions!! We plan to travel and enjoy and cherish each day with each other. Isn't love grand! Many Thanks Natalie and Rich
Edna & Jurgen
"Thanks AfroIntroductions"
Hello my love story start when one day about 22 years ago I met Jesus and my life changed. I was single, no had chindren, and start in my heart the wishes of meet one man for to marriage, but one special man, one man that know Jesus like me, single and without kids. I pray much in my church, and Jesus give me one inspiration, "buy one computer and make a profile where you must put what you want, how you want this man". And I buy the computer and looking for many site of relations, but the AfroIntroductions was the best, good price excellent access because I am Brasilian and could make my profile whitout help. And day 6 of October 2007 after my pastor prayed for me I arrived in my house take my hands of PC and make one prayer for Jesus "show me the correct man", and like magic Jurgen send me a email. After this day all day he sent SMS, emails and call me all day, sent me photos about his family, friends church. Day 10 of October 2008 he came to Brasil for meet me face to face, and day 22 of October day of my birthday he ask if I wanted to get married. It was in Paraty very beautiful beach in Brasil. Day 27 of October he went to Germany and day 2 of April of 2009 he return for to marry. Day 4 of June 2009 we get married, was very happy day and the promise of God start in my life, "it is no good that the man stay alone". I wait and with 50 years the miracle happen. I have certainty that Jesus used this site. Thanks Jesus and thanks AfroIntroductions.
Member 1531736
"We met through AfroIntroductions "
Esther and I met through AfroIntroductions in August 2008. Although I had met other women online before she was different in some way and we clicked. I flew out to Senegal to meet her in October 2008 and stayed for a week, and we got engaged. I flew out again 5 months ago and we got married on St Valentine's Day. I flew out a third time in May and we submitted her Visa application. At the end of next week she flies to the UK to start married life with me here.We're both very excited. Well done, AfroIntroductions!
Cupid Media, het Cupid Media Logo en AfroIntroductions zijn handelsmerken van Cupid Media Pty Ltd.