Succes verhalen
Ivan & Martina
"Now our family is complete"
Martina contacted me on AfroIntroductions in 2007. Martina is from Monrovia, Liberia West Africa. We communicated over internet and by phone for several months and I decided to travel to Africa to meet this special lady. I landed in Monrovia 27th July 2008. A few days after meeting I asked Martina to marry me, and August 16 we got married. On 23rd, I had to leave and return home to Australia and back to work. Martina and her 2 boys finally landed in Brisbane June 7, 2010 and now our family is complete. We got married again on July 10 to comply with immigration requirements and intend to add to our family soon. We have decided to build a network of schools and community centers for orphans and single mothers in Liberia, with the first in the planning stages to be built in Monrovia. Thanks AfroIntroductions for bringing us together.
Esther & Tony
"Now we are happily married"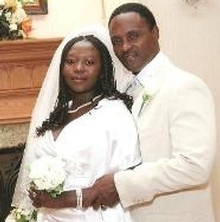 Hello AfroIntroductions, we hope that you are doing fine because we are doing very fine. We just got married and we want to say thanks to AfroIntroductions, we were able to find each other and now we are happily married. My husband's name is Tony and I'm Esther,we met on AfroIntroductions on October 9, 2009. We sent each other mails, chated every Saturday and some times gave each other calls. I was in Kenya and he was in the USA. In November, he decided to come to Kenya and meet me face to face and by him doing that made our relationship stronger. We trusted each other no matter how far apart we were, and what I can tell the others on this site is that distance doesn't matter and they should not give up because of distance. Thank you so much AfroIntroductions. We really appreciate this site.
Member 1407184
"Thank you so much AfroIntroductions"
I thank AfroIntroductions for making me a happy man today, I join the site February 2009 and my dream wife also the join the same week. After some few days I Upgrade my membership and I was able to chat with other member, I first of all talk to 2 other woman on the site but when I came across my dream wife my mind tells me that she is the one, this happen between 1 week when I join. I chat with my wife 1 to 2 week then we decided to meet each other to know the differences between us after 29 days she fly from United Kingdom to Gambia to meet me when I first saw her at the airport my mind tells me that she is my wife, she was a bit shy but I make her understand that we are all humans and we are God creatures. We spend 4 days and 4 nights together and we know more about each other and when she left I felt empty in my soul she also feel the same way then we knew we are born for each other, that is how it all started and we arrange and get married on the 19th August 2009 and today I can say we are the most happiest Couple on earth....I am telling everyone that is trying this, true is not that easy to just fall in love but is also easy to love but all it need is seriousness and it also involve risk. Nothing comes easy in life many are call but only few men and woman are chosen on site just try AfroIntroductions is all the best among all Websites I have ever hear about Or come across. Thank you so much AfroIntroductions site I wish the same to all member that are serious....
Regis
"I would like to thank you "
hello AfroIntroductions I would like to thank you for making me to find love and we re happy together. We found each other on 14 February 2010 and we meet in personal on 7 March 2010. And we are happy and we are soon getting married and after we can have our honeymoon in Pittsburg and we have family together. Thank you AfroIntroductions for making find my love. We are wonderful couple. People who are still looking for I wish you luck.
Pauline & Martin
"Thank you so much AfroIntroductions"
We would like to thank AfroIntroductions, we met here on this site chatted for hours every day as we fell in love and finally my honey came to Kenya. We got married and now am in the Netherlands with him, I cannot imagine life without him, he is all I have ever wanted, brings joy, happiness and a life full of excitement and surprises. Thank you so much AfroIntroductions keep up!!!!!
Pauline & Martin
Cupid Media, het Cupid Media Logo en AfroIntroductions zijn handelsmerken van Cupid Media Pty Ltd.