Succes verhalen
Godspower & Heidi
"Thank you AfroIntroductions!"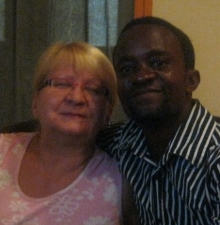 AfroIntroductions, i dont know how best to thank you here for given me the privilege and opportunity to fulfil my destiny meeting the best woman in the world as my love. we meet in 2010 here at AfroIntroductions and since then we have been in good communication. Thought we have our ups and down yet we were able to resolve all our differences with else. We are so perfect match that each time we have quarrel, we go through it easily and smile again. We are that 2 hearts that beat as one. We have met more than 4times in person and right now we are so in love and will be together forever as husband and wife. I am so happy and don't know how best to than afro. But i want the world to know this that AfroIntroductions is the best dating site in the world. Thanks and God bless AfroIntroductions.
Jane & Andy
"Thank you AfroIntroductions!"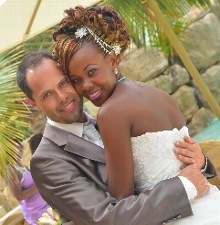 Thanks alot AfroIntroductions team,we appreciate your dating site coz its real. I found my soulmate on 2010 and we met first on december the same year,since then we were revisiting each other Europe and Africa and made our love grew bigger and stronger. Last year on 13th october we tied our knots together with a very colourful wedding which would be a dream to many,it was even on the media houses.Now we're happily married in Europe. We want to urge those who're still searching,this site is real there're real people here just dont get tired-.
Paul & Gisela
"Thank you AfroIntroductions!"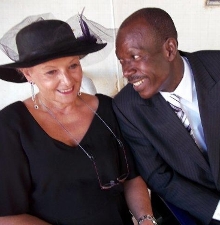 hello, To whom it may concern, am much glad to write and attach my weeding photo with my most lovely wife, i sincerely give thanks to all the staff of afrointroductions and the efforts to protects our profiles when we are not married and we also extend our honest greetings the members in this site.
Marie-Alice
"Merci AfroIntroductions!"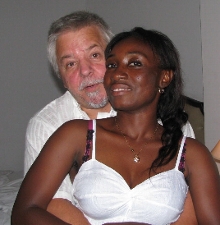 mon époux et moi remercions toute l'équipe d'AfroIntroductions d'avoir mis en oeuvre la facilitation de notre rencontre via net
Grâce à ce site nous sommes heureux et vivons matrimonialement depuis le 02 avril 2011.
On s'est rencontré dans ce site et 6 mois après il a quitté l'Amérique pour venir me visiter en Afrique et on s'est rendu compte très vite que nous étions fait l'un pour l'autre car nous avons beaucoup de traits en communs. Alors on a décidé de se marier. nous vivons dans la paix, la joie et la quiétude. Il a 57 ans et moi presque 30 et sommes fous d'amour l'un et l'autre. Notre relation est très équilibrée.
alors à tous ceux qui veulent aller sur AfroIntroductions n'hésitez pas. car AfroIntroductions vous aide à trouver votre partenaire de vie. et sachez que à AfroIntroductions, on trouve le grand amour et l,homme de sa vie. mon époux et moi en sommes une preuves du succès et des prouesses de ce site sur les mariages internet.
Ceycey &Tom
"Thank you AfroIntroductions!"
I joined this site in 2010 and stopped but 22nd october 2012 i reluctantly logged into my account,i met so many people but only one person caught my attention,we are so much fond of each other,i am madly in love with Tom,we talk everyday on skype,phone,he's coming to visit me and i am so happy that i could love again after being divorced for 8 years. He's divorced with 2 girls and i have 2 girls too,we have so much in common and i'll keep u posted on the latest developement....keep serching,do not give up,there are still genuine people here like my prince TOM,Goodluck.
Cupid Media, het Cupid Media Logo en AfroIntroductions zijn handelsmerken van Cupid Media Pty Ltd.