Succes verhalen
Brian & Lisa
"Thank you AfroIntroductions!"
Hi, I am very happy to say that I have found someone here at this site that I connected with and makes me very happy and am including a photo of myself and and my little treasure.. It can be very difficult to search and even begin a relationship online. And yes you do have to weed through the negativity and the hype. But I see now real happiness and compatibility is possible. To AfroIntroductions, again thankyou. And to everyone here honestly searching for love and happiness as we were, best wishes to you!!!
Rob
"Thank you AfroIntroductions!"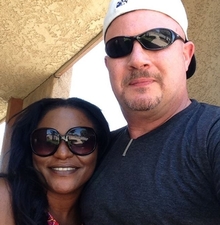 I sent Bea an email telling her I liked her profile and to please check out mine. If she was interested then I would enjoy getting to know her. To my surprise she responded after a few days. We emailed back and forth. Then we did Skype and FaceTime. We discovered we had a lot in common. I went to California to visit Bea. It was a magical week. We will soon be married. Thank you Afrointroductions for helping make this miracle happen. To all of you out there looking for love, we wish you luck! We know you will find that special someone out there!
Beatrice and Robert
Joy
"Thank you AfroIntroductions!"
am glad that i have found my lucky one , i am happy with him now and thanks to this site , my advise is people should try it out and you will find what you have been looking for thank you
Pamela
"Thank you AfroIntroductions!"
Thanks Afro for making me find my love and Really I appreciate ever getting on this website. I never knew I could find someone so soon here. Thanks allot Afro..
Rejoyce
"Thank you AfroIntroductions!"
I Have meet my true love on this site , i want to say thanks to this site for what they have done for me and my man , to be frank i never thought i would be in love again , but here i am so much happy with my dear one , thanks
Cupid Media, het Cupid Media Logo en AfroIntroductions zijn handelsmerken van Cupid Media Pty Ltd.