Succéhistorier
Elvis
"Thank you AfroIntroductions!"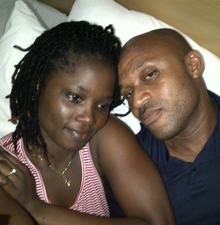 It was one evening on the 21st of July, 2013, when on my usual search an interest popped up. I hesitated initially as these interests are the norm on Afro, and then by the third interest I decided to view her profile, there and then I discovered an Edo beauty of an inconceivable measure from Benin City, Nigeria. I swung into sending a mail at exactly 6:40pm with complete contact details. Eleven minutes after came her response in the same manner. The fire kept burning until we met in person at the Muhammed Murtala Airport, Lagos, Nigeria on the 33rd day from the day of our meeting on Afro, We are together now in Benin City planning our wedding.
She's being very caring and introducing me to some juicy Nigerian meals.
God Bless Afro!
Linda
"Thank you AfroIntroductions!"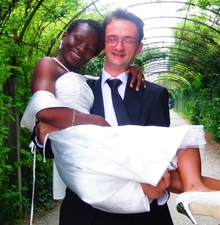 Phil and I met on this site almost a year ago.We start chatting to get to know ourselves.Who would've thought it would grow into such a beautiful thing like we have now.We were married last week.Am so glad I met him.
Proscovia & David
"Thank you AfroIntroductions!"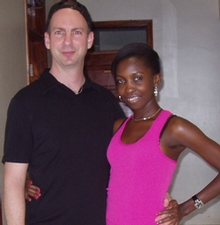 hello afro, my name is proscovia and this is my sweet husband david, we met on afro 6months back, he came to visit me in my country for the first time and the second time he came back we got married on 9th august 2013, i believed in love again and found the love of my life through afrointroductions ,i would like to encourage all of you that love is real and yes you can find someone on afro introductions, thank you very much afrointroductions
Carl & Sharon
"Thank you AfroIntroductions!"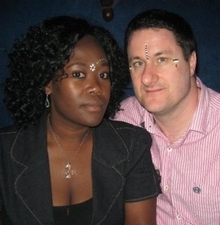 I joined this site late 2008 and met my now Husband of 4 years on this site.while he lived in the UK I was in South Africa. We kept the communication going online till he could visit then we he did we had a great holiday together,the a few months later I came to visit him in the UK and this time he proposed . We got married in August 2009 and by Dec 2009 I moved to the UK permanently. In 2011 Feb out gorgeous daughter was born and in a few weeks we will be celebration our 4th Wedding Anniversary. It's been all thanks to your site and now we ave a happy family and going strong. Thank you once again. To all those searching, don't lose hope, there are genuine people here and you will find your special one. All the best to all.
Marie
"Vielen Dank AfroIntroductions!"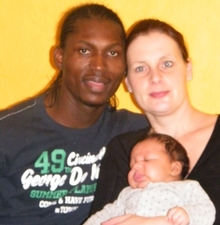 Ich habe meinen Traummann auf eurer Seite getroffen und wollte mich nochmal ganz herzlich bedanken. Wir haben uns letztes Jahr im Januar kennengelernt. Er hat mich angeschrieben, dann haben wir telefoniert am gleichen Abend, dann jeden Abend geskypt und nach einer Woche hat er mich besucht und es hat gefunkt. Er ist dann bald darauf bei mir eingezogen, wir haben letztes Jahr im Oktober einen Sohn bekommen und leben seitdem harmonisch zusammen. Wir planen bald zu heiraten.
Cupid Media, Cupid Medias logga och AfroIntroductions är varumärken som tillhör Cupid Media Pty Ltd.