Succéhistorier
Aguie et Xavier
"Merci AfroIntroductions!"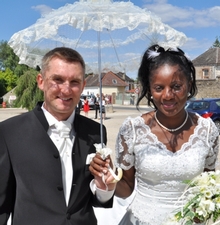 Un petit clic en 2009 et au bout un grand bonheur le 2/07/2011 grâce àAfrointroduction; nous venons donc vous témoigner toute notre gratitude tout en souhaitant longue vie au site et bonne chance à ceux et celles qui cherchent "réellement et sincèrement" de l'amour! Bise de Aguie et Xavier.1 2 3 à vous le bouquet du bonheur!
Kila et Patrick
"Merci pour tout AfroIntroductions!"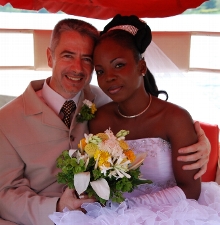 Je suis mariée depuis le 12 mars 2011,Et depuis le 28 mai 2011 ,j'ai rejoins mon mari en France,C'est le grand amour, nous projetons d'avoir le plus vite possible un enfant. Merci pour tout afrointroduction pour ce que vous avez faire nous nous,Bonne chance à tous ceux qui cherchent , Tout est possible avec afrointroduction,
Gentleman
"Thank you AfroIntroductions!"
Grace & Frantico
THANK YOU.. Afro-Introductions
We met here, 6 months ago.. and by Gods Grace we are now planing a future together.. having spent precious time, talkin & in person
We always say... Love is the Answer.. & if you believe True Love can be for All of us
by The Grace of God we can be blessed With Love
Michaux
"MERCI AfroIntroductions!"
Je tiens a remercier l'équipe AfroIntroductions pour ce moyen rapide de faire rencontrer ceux qui cherchent les partenaires.J'ai connu une charmante fille ici et en ce jour nous somme fiancés et nous attendons un bébé. Je suis allé deux fois au Kenya pour la rencontrer et tout a été magnifique. Merci Afro
Tony and Tina
"Thank you so much AfroIntroductions for bringing us together"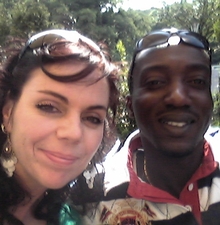 Thank you so much AfroIntroductions for bringing us together. We met 1 month ago after chatting for almost 4 weeks before setting our first date. It all worked perfectly and now we are together and also planning for our future.Thank you so much AfroIntroductions for this wonderful site. It really works. For those, who are still searching.....keep the midnight oil burning and never give up.Thank you. Tony and Tina
Cupid Media, Cupid Medias logga och AfroIntroductions är varumärken som tillhör Cupid Media Pty Ltd.