Suksess Historier
Proscovia & David
"Thank you AfroIntroductions!"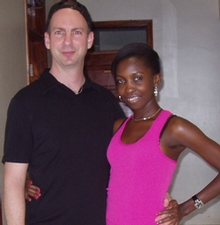 hello afro, my name is proscovia and this is my sweet husband david, we met on afro 6months back, he came to visit me in my country for the first time and the second time he came back we got married on 9th august 2013, i believed in love again and found the love of my life through afrointroductions ,i would like to encourage all of you that love is real and yes you can find someone on afro introductions, thank you very much afrointroductions
Carl & Sharon
"Thank you AfroIntroductions!"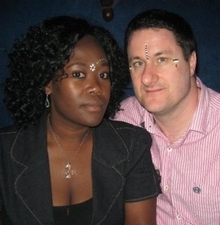 I joined this site late 2008 and met my now Husband of 4 years on this site.while he lived in the UK I was in South Africa. We kept the communication going online till he could visit then we he did we had a great holiday together,the a few months later I came to visit him in the UK and this time he proposed . We got married in August 2009 and by Dec 2009 I moved to the UK permanently. In 2011 Feb out gorgeous daughter was born and in a few weeks we will be celebration our 4th Wedding Anniversary. It's been all thanks to your site and now we ave a happy family and going strong. Thank you once again. To all those searching, don't lose hope, there are genuine people here and you will find your special one. All the best to all.
Rob
"Thank you AfroIntroductions!"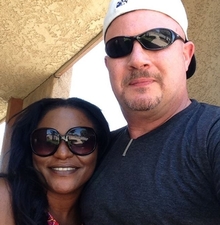 I sent Bea an email telling her I liked her profile and to please check out mine. If she was interested then I would enjoy getting to know her. To my surprise she responded after a few days. We emailed back and forth. Then we did Skype and FaceTime. We discovered we had a lot in common. I went to California to visit Bea. It was a magical week. We will soon be married. Thank you Afrointroductions for helping make this miracle happen. To all of you out there looking for love, we wish you luck! We know you will find that special someone out there!
Beatrice and Robert
Fikirte & Todd
"Thank you AfroIntroductions!"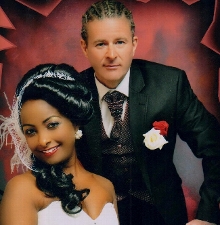 My name is Fikirte and i have logged to your web site two years ago looking for love and luckily I started chatting with this very kind gentleman we talk for many hours our the site and also on Skype daily for over 2 or 3 hours. He is from Australia and His name is Todd.We got married on January 26th 2013.We are so greatful for what you did to us and we both want to thank you so much for making our dreams come true.We are now more than inlove and people get amazed how we communicate.We hope this photos will explain all. Thank you very much once again.
Steve & Grâce
"Merci AfroIntroductions!"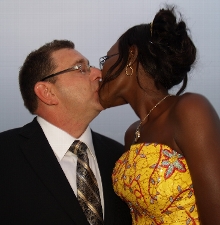 Bonjour On remercie beaucoup le site AfroIntroduction car grâce a vous j ai rencontré ma femme,ont s'est marié au Bénin et c est le bonheur parfait elle et moi vous remercions du fond du coeur. Aux autres membres célibataires, ne désesperez point l'amour existe encore il faut y croire! Bisous a tous et toutes
Cupid Media, Cupid Media Logoen og AfroIntroductions er varemerker av Cupid Media Pty Ltd.