Storie di successo...
Francisco & Nandee
"Thank you AfroIntroductions!"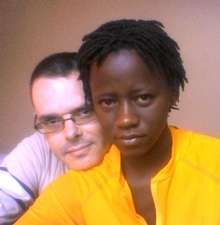 I would like to thank Afro for giving me the opportunity to meet my sweet angel. After chatting online for 8 months he decided to come over to Namibia from Spain. Now we are finally happy together and this was made possible by Afrointroductions. We will always be grateful for your service.
Francisco & Nandee
Annet & Nico
"Thank you AfroIntroductions!"
We found each other here last year. We are glad we met on this site. We really are very happy together. We got married on 09-02-2013.
Kai
"Thank you AfroIntroductions!"
We both registered in 2010 but we passed us at that time. This year in May 2013 we found us here on this page and communicated for round about 2-3 weeks over this page. After that we wrote emails, phoned over skype and I bought an international sim card for handy. We both have fallen in love without meeting each other in real. So in September 2013 I traveled to Nairobi and it was unbelievable. She also had birthday the time we met and now we will plan our future together. One day we will marry each other and no matter where we will stay, important is that we will be and grow old together. So many thanks to Afro that I was able to get to know a rare soul twin....We are one soul living in two body. Greetings.
Andy
"Thank you AfroIntroductions!"
Andrew & Sarah I have been a member on afro for 2 years, Sarah a member for * years. We made contact on Afro when Sarah sent me a simple interest notification in June 2013 and we corresponded every day from that day till we arranged to meet and get married in September 2013. The picture shows all went to plan and we were married in Nairobi on September 14, 89 days after that 1st contact on afro. For us both it is our 1st marriage, dreams really can come true.
Elvis
"Thank you AfroIntroductions!"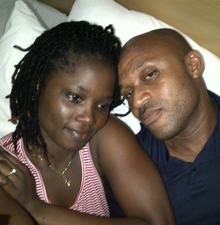 It was one evening on the 21st of July, 2013, when on my usual search an interest popped up. I hesitated initially as these interests are the norm on Afro, and then by the third interest I decided to view her profile, there and then I discovered an Edo beauty of an inconceivable measure from Benin City, Nigeria. I swung into sending a mail at exactly 6:40pm with complete contact details. Eleven minutes after came her response in the same manner. The fire kept burning until we met in person at the Muhammed Murtala Airport, Lagos, Nigeria on the 33rd day from the day of our meeting on Afro, We are together now in Benin City planning our wedding.
She's being very caring and introducing me to some juicy Nigerian meals.
God Bless Afro!
Cupid Media, il logo Cupid Media e AfroIntroductions sono marchi registrati di Cupid Media Pty Ltd.