Muutama Onnellinen Tarina
Faith and Glen
"I knew our love for each other was genuine and everlasting"
Dear Afro Introductions, Thanks to your website, I have now realized my dream of meeting the most beautiful and loving woman on earth. Back in June of 2004, I met Faith, from Benin City, Nigeria, on Afro Introductions. As the months and years passed by, Faith and I became closer and closer until we were communicating on a daily basis with each other. Faith is the perfect type of woman I was looking for and could not find in the United States. I visited with Faith in Nigeria for several days and after this visit both Faith and I knew our love for each other was genuine and everlasting. I returned to the United States and 6 months later in November of 2005 Faith was issued a Fiance' Visa from the U.S. Consulate in Lagos, Nigeria. We married in the United States in December of 2005 and have been living happily ever after ever since. Faith and I would like to let your subscribers on Afro Introductions know it is possible for their dreams to come true using your website. With alot of patience, you can find a lifetime of happiness. Thank you Afro Introductions from Faith and Glen.
FUNMILOLA AND RON
"You made our dreams come true"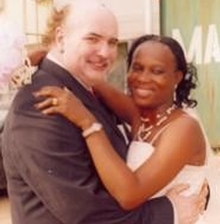 We want to say a big thank u to you and your team, you guys are so wonderful cos u made our dreams come true. we had written to u about our success story and promised to send our pic when we get married. we use this opprtunity to say a very big thank u, we met in feb 2004 and now got married 17th march2006 in lagos nigeria. Funmilolawill be coming to live wit me as soon as the visa is sorted.we both say a big thank u , and please dnt stop the good work. WELL DONE......... FUNMILOLA AND RON
Kevin and Ijeoma
"Thanks again Afro for making this dream of ours come true."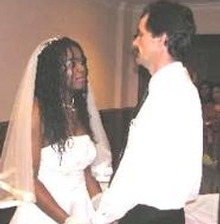 Thanks Afro staff, We just wanted to thank you guys for making it possible for us to meet. We first met through Afrointroductions in October 2005. Now six months, a coupole of visits, lots of phone calls, emails and almost daily chatting on line we are finally married on April 25th 2006. Ijeoma will be coming to live with me in Australia as soon as we have her visa approved. Thanks again Afro for making this dream of ours come true. P.S. We wish all of you Afrointroductions people the very best of luck in your search. We are sure that there is someone out there just waiting to hear from you. Kevin (192214) and Ijeoma (156637) Australia / Nigeria
Kurt and Constance
"Thank you AfroIntroductions"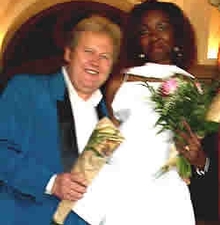 hi AfroIntroductions i write to you about a month ago ,i find a very good lady from zambia and now she here with me in sweden,we been married in sep and just waitin for permit in 5 years to my wife we are so happy both.we send some foto from wedding. have a good time and thank you AfroIntroductions from kurt and constance in sweden
Mr. and Mrs. Kesselly
"We are two peas in a pod and we love each other very much"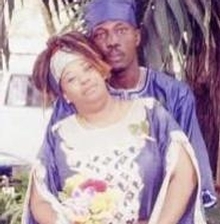 It was amazing how me and my husband came to be. In all honesty I had never went online to meet anyone before June 2003. At the time I was looking for single black men in my home area but when I did a search somehow I ended at Afrointroductions.com. Which has singles from all over the world. I browsed the site and saw the profile of a man who I thought was a perfect match for me. The very next day a very nice man messaged me. I was shocked and knew that we were destined to be when I went in to the site to view his profile and by GOD's grace, it was the same man, the only man that I thought was compatable with and who I tried to email myself. My husband and I have been happily married since March 2004. We are two peas in a pod and we love each other very much. We want to say thanks Afrointroductions and that we tell everyone we know our story!!!! Again thanks from the bottom of our hearts, if there were no Afrointroductions.com. There would have never been a Mr.and Mrs. Kesselly. "True love is only an afrointroduction away"
Mr. and Mrs. Kesselly USA
Cupid Media, Cupid Media -logo ja AfroIntroductions ovat Ecom Holdings Pty Ltd:n rekisteröityjä tavaramerkkejä ja niitä käytetään Cupid Media Pty Ltd:n luvalla.