Muutama Onnellinen Tarina
Jay
"we feel lucky that Afrointroductions made this possible"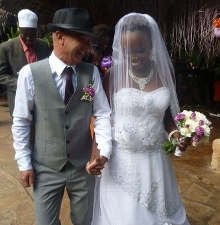 We are now married and are happy together and we feel lucky that Afrointroductions made this possible!Thank you! Our wedding was a colorful emotional affair as we both recognize that we are good together! Dont give up! Be careful select your partners according to how u feel and who know?? Thank you afro!We are very Grateful! Mr. and Mrs. L
Aguie et Xavier
"Merci AfroIntroductions!"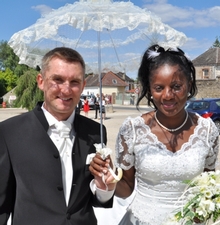 Un petit clic en 2009 et au bout un grand bonheur le 2/07/2011 grâce àAfrointroduction; nous venons donc vous témoigner toute notre gratitude tout en souhaitant longue vie au site et bonne chance à ceux et celles qui cherchent "réellement et sincèrement" de l'amour! Bise de Aguie et Xavier.1 2 3 à vous le bouquet du bonheur!
Kila et Patrick
"Merci pour tout AfroIntroductions!"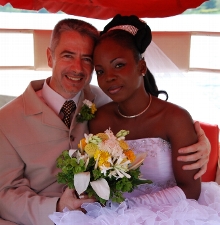 Je suis mariée depuis le 12 mars 2011,Et depuis le 28 mai 2011 ,j'ai rejoins mon mari en France,C'est le grand amour, nous projetons d'avoir le plus vite possible un enfant. Merci pour tout afrointroduction pour ce que vous avez faire nous nous,Bonne chance à tous ceux qui cherchent , Tout est possible avec afrointroduction,
Gentleman
"Thank you AfroIntroductions!"
Grace & Frantico
THANK YOU.. Afro-Introductions
We met here, 6 months ago.. and by Gods Grace we are now planing a future together.. having spent precious time, talkin & in person
We always say... Love is the Answer.. & if you believe True Love can be for All of us
by The Grace of God we can be blessed With Love
Michaux
"MERCI AfroIntroductions!"
Je tiens a remercier l'équipe AfroIntroductions pour ce moyen rapide de faire rencontrer ceux qui cherchent les partenaires.J'ai connu une charmante fille ici et en ce jour nous somme fiancés et nous attendons un bébé. Je suis allé deux fois au Kenya pour la rencontrer et tout a été magnifique. Merci Afro
Cupid Media, Cupid Media -logo ja AfroIntroductions ovat Ecom Holdings Pty Ltd:n rekisteröityjä tavaramerkkejä ja niitä käytetään Cupid Media Pty Ltd:n luvalla.