Succes verhalen
Steve & Grâce
"Merci AfroIntroductions!"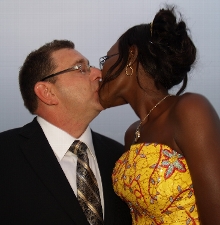 Bonjour On remercie beaucoup le site AfroIntroduction car grâce a vous j ai rencontré ma femme,ont s'est marié au Bénin et c est le bonheur parfait elle et moi vous remercions du fond du coeur. Aux autres membres célibataires, ne désesperez point l'amour existe encore il faut y croire! Bisous a tous et toutes
Jérôme & Diana
"Merci AfroIntroductions!"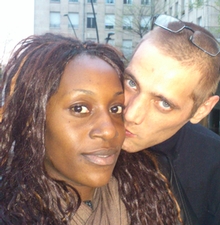 je suis tres heureux aujourdhui,et je dis merci a AfroIntroductions!!!! ,je souhaites aux autres membres de trouver le bonheur comme moi. Bonne chances bisouxxxxxx
Desiree
"Je remercie vraiment AfroIntroductions pour tout!"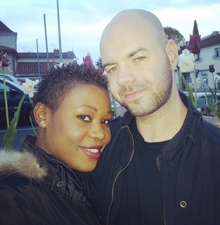 j'ai rencontré mon mari (français et moi ivoiro-camerounaise) le 09 mai 2012 sur AfroIntroductions après deux jours d'échange on s'est dit je t'aime pour la première fois ; le même jour mon mari ma demandé en mariage. Le 15 juin il es venu en cote d'ivoire le 21 juin on s'est dit oui devant le maire et depuis on est inséparable.j'ai trouvé mon amour et ca rien qu'en 2 jours comme quoi le coup foudre existe encore. Je remercie vraiment AfroIntroductions pour tout car ni moi ni mon mari ne savions qu'un jour ou un autre on trouverai l'amou. Après 9 mois loin l'un de l'autre aujourd'hui je vis en France avec mon mari et grâce a AfroIntroductions je suis la future maman la plus heureuse de la terre!!! merci AfroIntroductions!!! Ca marche ne perdez pas espoir...
Natasha
"Thank you AfroIntroductions!"
we met here two months ago and he came to my country to meet me,it was magical,its as if we had met years back,i will be going to his country germany to visit and get oriented with the country and plan on getting married then.thank you AfroIntroductions helping me meet my amazing man!!! am gratefull
Godspower & Heidi
"Thank you AfroIntroductions!"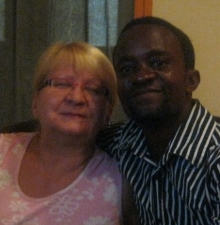 AfroIntroductions, i dont know how best to thank you here for given me the privilege and opportunity to fulfil my destiny meeting the best woman in the world as my love. we meet in 2010 here at AfroIntroductions and since then we have been in good communication. Thought we have our ups and down yet we were able to resolve all our differences with else. We are so perfect match that each time we have quarrel, we go through it easily and smile again. We are that 2 hearts that beat as one. We have met more than 4times in person and right now we are so in love and will be together forever as husband and wife. I am so happy and don't know how best to than afro. But i want the world to know this that AfroIntroductions is the best dating site in the world. Thanks and God bless AfroIntroductions.
Cupid Media, het Cupid Media Logo en AfroIntroductions zijn handelsmerken van Cupid Media Pty Ltd.